A favorite tool for us to effectively monitor our SQL Server environments and beyond is Icinga. Icinga is an open-source monitoring system with checks for availability (like ping) as well as collecting performance data like CPU, Memory usage, and disk free information in both MB, GB, and %'s. Complete with alerting and notifications including threshold settings to make visible if only a warning, or critical, or all green Ok when recovered.
Icinga runs on Linux and Windows and can monitor large complex environmenst across multiple locations from on-premises to cloud environments. Monitoring SQL Servers is important but an outage to a user is the same experience whether it's a network outage, drive space failure, server/cient hardware failure, or sql server itself. Monitoring the entire infrastructure is key to a DBA defending him/herself!
The dashboards in Icinga are not true charts & graphs rather they effectively deliver the necessary information on all health checks available. Many templates available cover all performance monitor items imaginable from OS to SQL counters, and you can easily incorporate any SQL DMV calls you desire.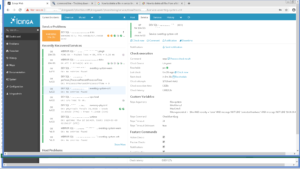 My personal favorite is a plugin called NagVis you can share with your NOC (Network Operations Center) or Help Desk Teams to refer to a Visio or PDF layout of your network. Any issue will appear as icings next to the network resource like Yellow (warning) or Red (critical), to Green (the best!). Hover your mouse and receive the details, is it high CPU, is disk filling, answers to problems at everyone's fingertips, not just the DBA, network, or server admins!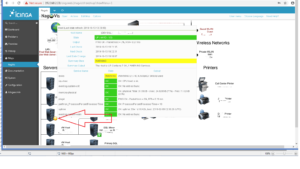 What next? Take these realtime Icinga checks and load them to Graphite or InfluxDB to preserve for historical searching. Use a graphing tool like Grafana to present as line graphs with minimal to zero coding.
Avoiding the most expensive tools on the market in favor of home-grown tools like SSIS and SSRS as I have created many is common, but what really plugs holes like connectivity ping checks to quick alerting and centralized monitoring data collection for your entire infrastructure is Icinga and you just can't beat the price. Well done icinga.com!